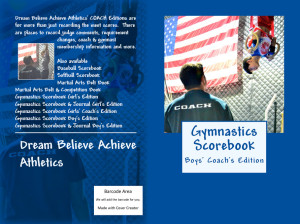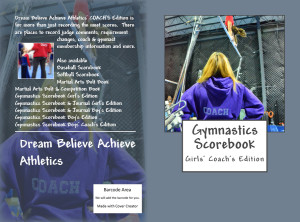 A must have for competitive gymnastics coaches.  It is gratifying work teaching gymnastics skills, choreography and technique to gymnastics athletes at the gym.  Coaches work closely with each gymnast on the team, making mental notes about each athlete's individual strengths, weaknesses and development.  After each meet at which the team competes, it would be handy to track every team member's opportunity for improvement.  This gymnastics coach journal is the perfect way to record more than just team member scores.  There are places to record judge comments, requirement changes, coach & gymnast membership information and more.  A great gift for the dedicated coach.
What's The Difference?
Dream Believe Achieve Athletics Girls' Coach edition contains the girl's artistic gymnastics events, the Boys' Coach edition contains boy artistic gymnastic events.
What People are Saying on Amazon.com
I love this score book! It's perfect for keeping track of my gymnast's progress. They love being able to look back and see how they did at previous meets. And the best party is this book is very high quality so I know it will last forever!
I have coached competitive gymnastics for about 7 years. Every meet we go to coaches are writing the gymnasts scores down, but on random scraps of paper, never to be seen again after the competition is over. This new score book for coaches is excellent!!! I love being able to record my gymnasts scores along with notes from me and the judges. I am able to come back to practice and have a reminder of what needs to be perfected, because lets be honest, with all of the gymnasts on your team and the stress of the competition, it is difficult to remember every detail of every routine. This score book has been a life saver for me and really made a difference in my feedback at practice.
By Sandy on November 25, 2013
As a Gymnastics Mom, I always look for the perfect gift to give to my daughters coaches for the Holidays…
The Gymnastics Score Book For Coaches, is the perfect gift for the Coach that spends so much time with your kid during the week at the Gym!
It's also great for the High School Coach to keep records of each season and a great addition to make notes about each gymnast progress!
I recommend this as a great gift that any Coach will love and look for it as a future gift once he or she starts using it!