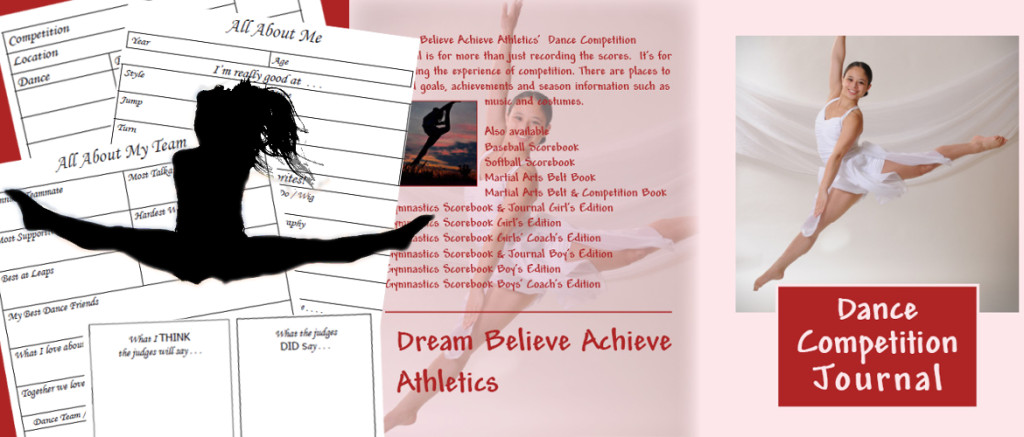 Dream Believe Achieve Athletics Dance Competition Journal is a must have for competitive dancers of all ages.  After many hours of hard work learning choreography and dance technique over so many weeks of practices and rehearsals at the studio, every dancer finally performs onstage for judges, and then in a flash, it's over.  The season is a whirlwind.  Even hundreds of pictures are not able to capture the full experience.  Close to every dancer's heart, are the personal hopes, dreams, the exhilaration of milestones reached and the desire to cherish priceless moments experienced at each competition.  This dance competition journal is the perfect way to record more than just scores. Dancers can capture goals, observations, achievements, as well as information such as music and costumes, for each and every competition throughout the dance season.  An ideal gift for competitive dancers — a wonderful way to  track their progress over time and to share their special dance moments with supportive family and friends who will also appreciate being able to look back at these memories.
PERSONALIZATION AND BULK SALES AVAILABLE FOR DANCE STUDIO'S AND COMPETITIONS
 What People are saying on Amazon.com
I purchased the dance book so I could record my daughter's competition scores. The idea of having all the information in one book appealed to me. What I found was much more than that. It allowed us to capture the entire competition experience. My daughter loves to write about her achievements and the areas she feels she can improve on. There is an area to list your costumes and music too. What a terrific idea! A must have!!!
As a proud dance mom I am thrilled to have found this book. I want to remember all of my daughter's competitions that she worked so hard for. This journal helps me record the results and some details from each competition that I want to remember and help my little dancer remember. I know looking over this book with her when she is older will be priceless.